TAIYO HOLDINGS CO., LTD. (head office: Toshima, Tokyo; President and CEO: Eiji Sato; Securities Code: 4626, hereinafter "Taiyo Holdings") signed a corporate sponsorship deal with badminton athlete Nozomi Okuhara. Set to begin in January 2019, during the period of this two-year deal Taiyo Holdings will sponsor the professional athletic activities of Okuhara, who recently announced her decision to turn pro. Okuhara will also participate in marketing and promotional activities and events conducted by Taiyo Holdings.
Taiyo Holdings is a chemical manufacturer that embraces the corporate philosophy of "Advancing our Group technology and providing innovative products to deliver hope to the world and support the realization of a fun and enjoyable society." We are dedicated to manufacturing products that benefit society. We also sponsor and participate in local sports events, and provide support to local sports foundations and youth athletes. Through our community contribution activities and by contributing to society through sports, we strive for the realization of a fun and enjoyable society.
Nozomi Okuhara won the bronze medal at the 2016 Rio de Janeiro Olympic and Paralympic Games and in 2017 became the first Japanese woman ever to win the World Championships in women's singles. Despite her small frame, Okuhara has made a large impact on the global stage. Nozomi Okuhara is an athlete who has constantly challenged herself at the highest levels and now, as a professional athlete, she looks to take on new challenges. Taiyo Holdings is a company that started from zero and now claims the world's top share of the solder resist market, and we are challenging ourselves to evolve into a comprehensive chemical company. Our desire to serve as the Okuhara's corporate sponsor is based on our recognition of a mutual commitment to challenge ourselves and striving for greater heights.
Taiyo Holdings will continue to support Nozomi Okuhara's challenges and will continue contributing to the realization of a fun and enjoyable society.
Comments from Nozomi Okuhara
While I feel the weight of this responsibility as a new professional in the world of badminton and as a representative of a new sponsor, there is no change in my mission. I strive simply to pour my all into fulfilling my goals. The race to the Olympics is about to begin. As I shift into full-scale preparation mode for the 2020 Tokyo Olympics, I want to improve my performance by creating a training environment that is ideal for me, one of the main reasons I chose to turn pro. 
Nozomi Okuhara profile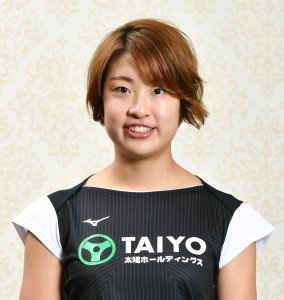 BWF world ranking: 2 (as of December 20, 2018)
Birthday: March 13, 1995
Hometown: Omachi, Nagano Prefecture
High school: Omiya Higashi High School (Saitama Prefecture)
Height: 156.3 cm
Career highlights
October 2012: BWF World Junior Championships – Winner (first Japanese ever to win)
December 2015: BWF Super Series Finals – Winner (first Japanese ever to win singles)
March 2016: 2016 All England Open Badminton Championships – Winner (first Japanese in 39 years)
August 2016: Rio de Janeiro Olympics – Bronze medal
August 2017: 2017 BWF World Championships – Women's singles – Winner (first Japanese ever to win)
December 2018: 2018 BWF World Tour Finals – 2nd Place