The Market Leader in the Solder Resist Field
The World's Leading Manufacturer of Solder Resist
Printed wiring boards are used in a variety of electronics products, from cellular phones, PCs, and other IT equipment, to digital household appliances and in-vehicle electronic equipment. Solder resist is an essential element in these printed wiring boards. Taiyo Group is a chemical manufacturer that boasts a top-class share in the global solder resist industry.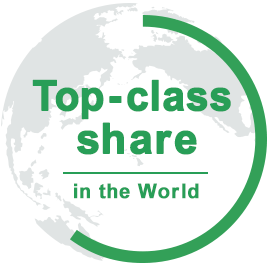 Solder resist applied to a PWB

Taiyo Group products: Solder resist

Liquid solder resist

Dry film solder resist
Taiyo Group Technology
Taiyo Group Accumulated Technology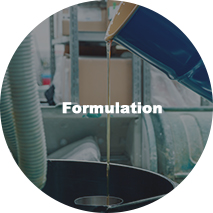 Formulation Technology

"Formulation Technology" refers to the accurate, efficient, and prompt development of the optimal combination of materials from amongst countless prospective candidates (e.g. synthetic resins, fillers, etc.) in order to achieve the various characteristics and performance required by products.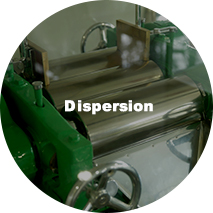 Mixing and Dispersion Technology

"Mixing and Dispersion Technology" refers to the manufacture of uniformly-dispersed and precisely-balanced ink formulations. In recent years, in conjunction with the ever-decreasing size of electronics, finer ink dispersions have become increasingly more critical and required.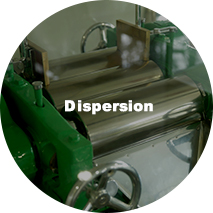 Taiyo Group Main Proprietary Fundamental Technology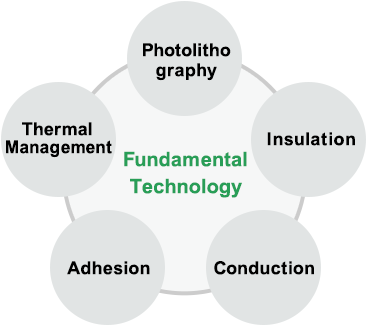 Leveraging its photolithography and insulation technology, Taiyo Group has built its foundations on solder resist and other printed wiring board materials.
Through the use of our photolithography technology, and adaptation of our conductive technology, Taiyo Group is developing the area of flat panel display materials as our secondary product group.
We intend to develop new product groups, such as the electronic and optical component groups, by further expanding our fundamental technologies including adhesive and thermal management technologies.
Global Network
Doing Business with the Global Market
Printed wiring boards (PWBs) are produced all over the world. The map of the industry is continually changing, with rapid growth of the PWB market in Asia, and particularly in China. Taiyo Group deals with PWB manufacturers the world over, and considers that responding to such changes in the global environment and continually supplying superior products and services is vital.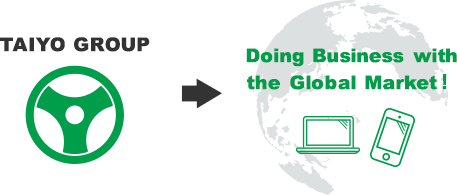 Global Network
In this challenging business environment, Taiyo Group aims to provide the global marketplace with optimal production bases and marketing channels. The company network system covers every corner of the globe, with production and marketing centers in Japan, China, Taiwan, Korea, the USA, and Vietnam, and marketing and technical support centers in Hong Kong, Singapore, Thailand, and the USA.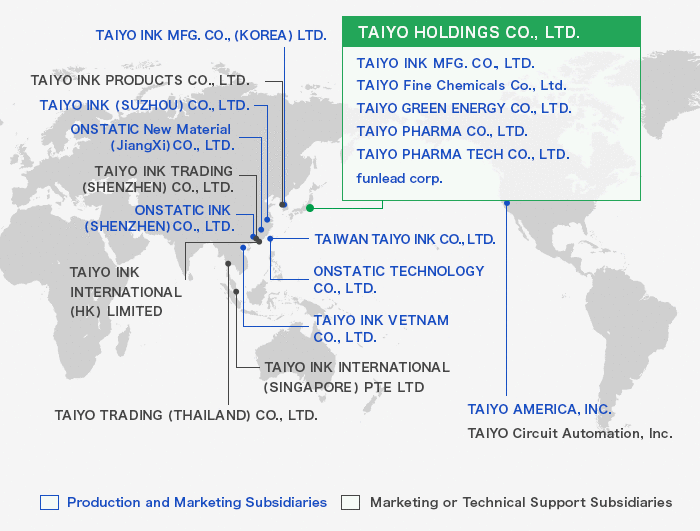 Overseas Sales Ratio of 80%
Currently, an approximately 80% of total sales is accounted for by overseas sales. Global demand for electronic equipment is expected to increase in the mid and long term. Taiyo Group will pursue business deployment as an international company, and will be proactive in attracting world demand.