TAIYO HOLDINGS CO., LTD., (head office: Toshima, Tokyo; President and CEO: Eiji Sato; Securities Code: 4626, hereinafter "Taiyo Holdings") is pleased to announce it has renewed its sponsorship deal with professional badminton athlete Nozomi Okuhara. With this renewal, the original endorsement deal signed with Okuhara in January 2019 is extended through to December 31, 2024. Under this endorsement deal, Okuhara will continue to represent Taiyo Holdings during her activities as a professional badminton athlete while also participating in making and promotional activities conducted by Taiyo Holdings.
Nozomi Okuhara won the bronze medal at the 2016 Rio de Janeiro Olympic and Paralympic Games, in 2017 became the first Japanese woman ever to win the World Championships in women's single, and earned fifth place at Tokyo Olympic Games in 2021. Okuhara has made a large impact on the global stage. Since turning pro in January 2019, Okuhara has marked an unparalleled start as a professional badminton athlete and secured the World No. 1 ranking for the first time in her career in October 2019.
It was in view of these achievements, and in view of Okuhara's commitment to playing at Paris Olympics in 2024, that Taiyo Holdings decided to renew the sponsorship deal, extending the term to December 31, 2024.
Taiyo Holdings will continue to support the athletic pursuits of Nozomi Okuhara and make further contributions towards creating a cheerful society.
Comments from Nozomi Okuhara
I am delighted that Taiyo Holdings has agreed to continue sponsoring me. It will be difficult to keep winning at my current level, so I am determined to take on new challenges and push myself to a higher level of performance and results.
Nozomi Okuhara's Profile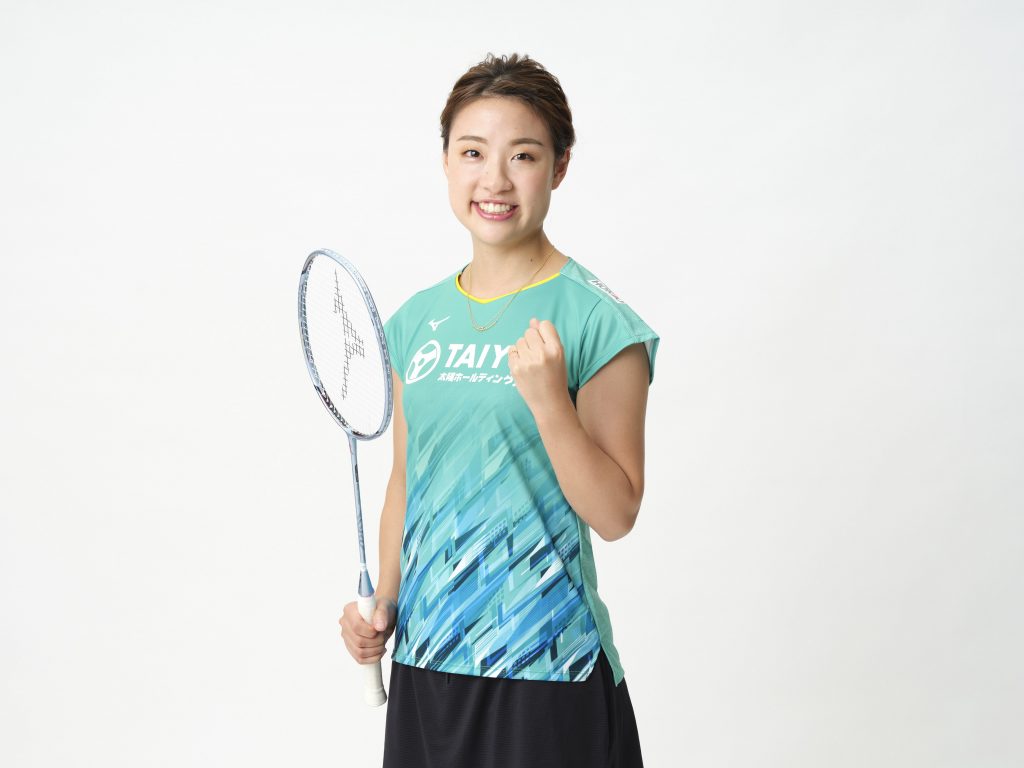 BWF World Ranking: No.5 (as of January 12, 2022)
Birthday: March 13, 1995
Hometown: Omachi, Nagano Prefecture
High school: Omiya Higashi High School (Saitama Prefecture)
Height: 156.3 cm
Career highlights:
October 2012: BWF World Junior Championships – Winner (first Japanese ever to win)
December 2015: BWF Super Series Finals – Winner (first Japanese woman ever to win singles)
March 2016: 2016 All England Open Badminton Championships – Winner (first Japanese in 39 years)
August 2016: Rio de Janeiro Olympic – Bronze medal
August 2017: 2017 BWF World Championships – Winner (first Japanese ever to win)
December 2018: 2018 BWF World Tour Finals – 2nd Place
December 2019: 73rd Japanese National Badminton Championships (2019) – Winner
December 2020: 74th Japanese National Badminton Championships (2020) – Winner
December 2021: 75th Japanese National Badminton Championships (2021) – Winner