TAIYO HOLDINGS CO., LTD., (head office: Toshima, Tokyo; President and CEO: Eiji Sato; Securities Code: 4626, hereinafter "Taiyo Holdings") is pleased to announce it has concluded a one-year sponsorship deal with Nagahara, a skateboarder who competes in men's park skateboarding. During the one-year term of the sponsorship, set to begin in January 2023, Taiyo Holdings will sponsor the athletic activities of Nagahara, while Nagahara will participate in marketing and promotional activities and events conducted by Taiyo Holdings.
Aged just 17, Nagahara already boasts an impressive sporting record. During the fifth Japanese national skateboarding championships (held in Murakami, Niigata, between November 24 and 27, 2022), Nagahara achieved his first number-one ranking in men's park.  In April 2022, he came in first-place at the Japan Open skateboarding competition. In the same month, he came in fourth-place at the X Games (a leading extreme sports event), the highest ranking for a Japanese competitor.
Skateboarding has garnered attention as a new sport after it was included among the Olympic Games events at Tokyo 2020. During the summer games, Japanese skateboarders won gold at three of the four skateboarding events, the one exception being men's park. Nagahara aims to earn a place at Paris 2024 and become the first Japanese competitor to win gold at this event.
Taiyo Holdings believes that happy people create a happy world. The company is therefore delighted to support Nagahara in his quest to accomplish a feat that no one from Japan has yet accomplished: becoming the world's top skateboarder.
Yuro Nagahara's profile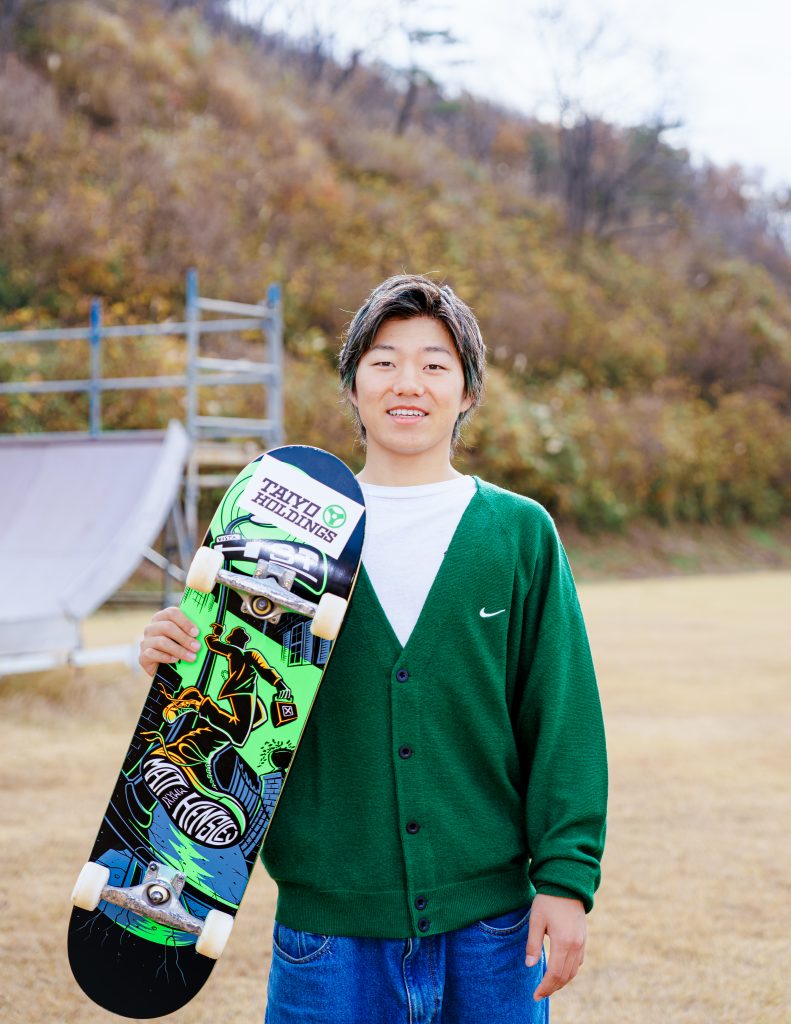 Date of birth:
June 10, 2005
Hometown:
Hakuba, Nagano Prefecture
Career highlights:
2017 Vans Am Combi Pool Classic, 14 and under – First Japanese skateboarder to compete at event
2019 Japanese national skateboarding championships – 2nd place World Roller Games held in Spain – 8th place Vans Park Series Asia Regionals Championships – 2nd place World Beach Games in Dubai – 11th place 2021 Dew Tour's skateboard competition in Des Moines, USA – 30th place 2022 Japan Open skateboarding competition – Winner X Games in Japan – 4th place (his debut attendance at X Games and the best ever result for a Japanese competitor at the Men's Park) Japanese national skateboarding championships – Winner (the youngest competitor to achieve this feat)
Comments from Yuro Nagahara
I feel delighted and honored that Taiyo Holdings has agreed to sponsor me. Taiyo Holdings believes that happy people create a happy world. This brand statement resonates with me, and it definitely holds true in the world of skateboarding. I adore skateboarding, and the thrill of the sport has kept me going until today. I've faced numerous challenges, but I've managed to beat these challenges by casting aside fear and embracing the thrill of the sport. My next big challenge is to compete at the upcoming Olympics. I'll practice every day with hope in my heart, never worrying whether I'll fail. My goal is to become the world's best in park skateboarding. As part of this dream, I aim to become the first Japanese competitor at the Olympics to earn a medal at the men's park event. Drawing inspiration from Taiyo Holdings' example, I'll create a happy world in skateboarding. With Taiyo Holdings supporting me every step of the way, I'll keep pursuing my dream to the best of my abilities.
Taiyo Holdings promotes sport as part of its contribution to local communities and the wider society. The company's engagement in sport includes participating in or endorsing local sport events and sponsoring local sports organizations and young athletes. For example, since 2019, the company has sponsored badminton star Nozomi Okuhara to support her sporting career.